Dragon Khan (PortAventura Park)

A park would want a new roller coaster to attract attention. A new ride, especially a large one, is supposed to be the eye-catcher of a theme park, and it wouldn't be logical to hide it from plain view. Even though you can overlook a roller coaster in some parks, you won't be able to pull that off with PortAventura Park's largest ride Dragon Khan.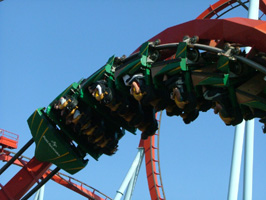 "Dragon Khan: Up close and personal."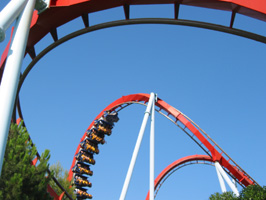 A true beauty. The bright red track forms a nice contrast against the blue sky.

PortAventura Park is built near the infamous coastal town Salou. The park is located at the bottom of a medium-sized hill, just outside of the Salou outskirts. At the top of that hill lies one of the largest European roller coasters; Dragon Khan. Remarkable is that this park, known for its sophisticated theming, hasn't made even a single attempt to hide this steel monster. On the contrary, Dragon Kahn is hiding in plain sight.

The back of the park accommodates the China area of the park. Everything in this area has some connection with pagodas, dragon and other mythical Chinese customs. Dragon Khan's story is based on one of these ancient Chinese myths. The Dragon Khan is said to the reincarnation of the evil prince Hu from Peking. His fury becomes paramount whenever a brave soul tries to climb the dragon in order to ride it.

PortAventura Park has portrayed this storyline perfectly. Dragon Khan is a 46 metre tall dragon. The first drop is a 49 metre deep plunge towards the desert followed by a 42 metre looping. The total length of this massive ride is a stunning 1270 metres. To place things in perspective; this roller coaster is taller and longer than the polder monster Goliath (which can be found at Walibi World).

Dragon Khan has been built by the Swiss company Bolliger & Mabillard (B&M). This company is well known for making the Rolls Royces and Lamborghinis among roller coasters. But why exactly? Well, that can be explained quite easily, especially when using Dragon Khan as an example.

Rolls Royces and Lamborghinis are know for a multitude of reasons. Mainly because of their speed and the sensation of speed they present to the driver. But they are also known because of their luxurious interior and their comfort. And of course, the last one of our three main reasons, their superior design.
These are exactly the characteristics of a B&M roller coaster like Dragon Khan. The ride looks fast, and certainly isn't slow, with a top speed of 104 km/h. The large and massive trains don't only look luxurious, they are! The victims are lined up four in a row in very comfortable fauteuils. These seats are very well formed and padded with comfortable 'cushions'.

Design is, as always, subject to personal taste. The large backbone that is a trade mark of a B&M ride doesn't only provide for a roar similar to that of an F16 jet fighter, but looks terrifying and intimidating as well. Especially if the track bends in all kinds of impossible shapes, just like it does in the Dragon Khan lay-out. The wide trains make it very peculiar to see them navigate their way along the course of this ride as well. All of these aspect add to Dragon Khan and classify it, from our point of view, as a true piece of marvellous Swiss design.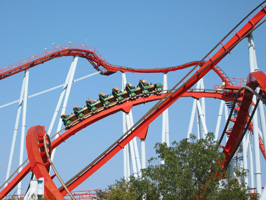 Dragon Khan is one giant dragon!

The ride experience of Dragon Khan is simply put phenomenal. Besides from the fact that this ride is exceptionally fast, it is also remarkably smooth (we are willing to ignore the tiny notch in the zero-G-roll). The inversions are taken smoothly and rapidly. It only takes 1,45 minutes for the train to complete the entire 1270 metre course, meaning that the average speed of this ride is about 43 kilometres an hour. This is extremely high for a roller coaster of these proportions.

Dragon Khan can operate with three trains. There are 28 seats available in each train for the brave challengers of this dragon. Because of the trim brakes in the middle of the course the capacity of this monster has been increased from 1200 to 1800 rides per hour. Despite of this large hourly capacity there still are impressive queues for this ride during the summer, with queue times of over an hour and a half. This ride is without doubt immensely popular!

PortAventura Park opened in 1995 with an amazing roller coaster! Not just because of the ride, but the entire picture. The design, the inversions, the speed but especially the location. The ride really looks its best behind the great wall of China. Partly because parts of the ride are hidden by foliage, partly because you have a great view of the ride's eight inversion while standing on the great wall. As a concluding statement; all of the above mentioned elements turn Dragon Khan into a true mind dazzling experience.




-René Tuithof

; translated by Frank Cornelissen